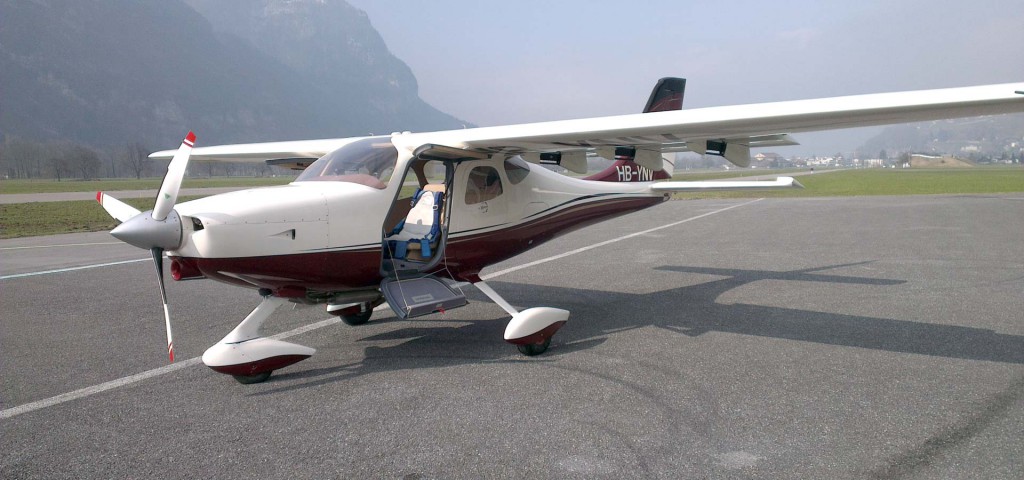 Aircraft Project TR230
There is currently an exciting project in progress to develop a new aircraft for general aviation. This is the innovative four-seater leisure and business aircraft called the TR230. Its development has now progressed to the prototype stage, flight tests are underway already and are to be continued shortly.
The aircraft features a comfortable cabin that can carry a heavy load. Its sophisticated aerodynamic design allows it to fly at high speeds, yet it requires only a short take-off and landing distance. Its large fuel-tank capacity permits an extremely long range, enabling the pilot to save time by avoiding tedious fuelling stops. If one were asked to name its three key qualities these would be comfort, high performance and ease of flying.
The aircraft is constructed from carbon fibre. It is powered by a Lycoming IO540 engine whose reliability in operation is unsurpassed.
The following movie shows the TR230 flight tested successfully on December 04, 2015 in CH-Birrfeld (LSZF), Switzerland. The test pilot was Mr Ulrich Schell. The flight took 38 minutes.
For further information on this exciting project, please do not hesitate to contact me. This project has outstanding perspectives for the future and might be very interesting to investors.
Research project
Research is geared towards flight control systems of the future, and how they can be evaluated. For this purpose certain approaches from Human Factors Integration come into play. These require further development and also require a degree of customisation for this specific application. The aim is to be able to make a pronouncement on how complexity and criticality perform in fulfilling a mission scenario whilst comparing different aircraft types. These aircraft types are a modern Airline Transport aircraft, a typical and modern General Aviation aircraft, and a newly developed fly-by-wire platform with automatic/autonomous flight guidance. This FbW-platform was developed at the Institute of Aircraft Systems, University of Stuttgart. Suggestions for further developing and perfecting such a system will be submitted and discussed.